The world has changed a lot and technology has taken over a lot of things. However, on the flipside, there are a lot of things that remain the same, no matter what happens to the rest of the world. DIY House move is one such aspect that until today is a popular way people choose while relocating. Thanks to the rental truck and container services, a DIY move has become much smoother than it used to be.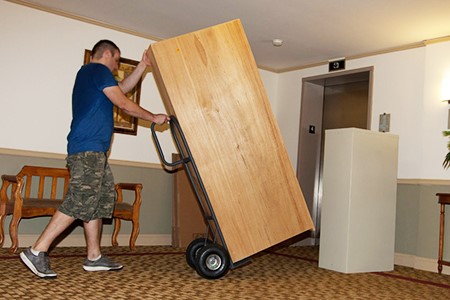 However, moving the large, bulky, and alien shaped inventory of a household is still a tough task demanding for more helping hands. While for many people friends and family come as a savior in such a condition but what for those who do not have enough support system.
Yes, moving service is a great option when you are doing a DIY move buy want some help for moving your items, loading them onto the truck, and more. While it may sound as a big expense to you, it brings a lot of benefits to you. Let us discuss some of the core benefits of hiring moving labor for a house move. 
It Allows you to be Free, and More Organized
Consider moving a house as a big event where you cannot handle everything alone. You need extra hands to help you pack and move the furniture, heavy items in your moving inventory, and more. If you do not abide by the rule of the delegation of tasks, you will have to see a messier side of the process, which to be honest is not very pleasant. Instead ofwasting your energy in worrying about the ending tasks and putting your muscles into all the action, why not save it for later by just supervising the tasks as the professional moving labor take charge of the situation.
Cost-Effectiveness
The moving process is one expensive deal and no one wants to spend extra money. To save money it is best to engage professional moving labor as it allows you to make great savings. You pay less than hiring a full-service moving company, enjoy the same or maybe a superior level of professionalism and expertise, and all this while being the in-charge of the entire moving process.
Your Support System may not be Around:
Even if you have a large support group with several family and friends, it is pretty much possible that you may not be able to get their help at the time of the relocation. People have a busy life nowadays and they might have other engagements during your moving phase.
Moreover, not everyone is interested in hard labor nowadays so some of your friends might choose to ditch you as well. Hiring a moving labor service allows you to be independent and not depend on anyone to show you some charity or love in the form of help.
Professional Services: Packing, Loading, and Unloading
No matter how hard we try, matching the expertise of professional movers is not easy. The movers have spent years in understanding, learning, and then performing the art and science of efficient packing, loading, and unloading. Contrary to that, most of us have just the basic skills of packing and loading and if we rely on these skills alone, things can go pretty bad. Tasks like packing fragile items or expensive inventory further demand next-level expertise.
These tasks are not ordinary and any flaw in them can cost you big. Itis thus the best to let the professionals do what they are the best in doing. Movers are trained to handle your inventory with great care and efficacy and this is why hiring moving labor for tasks like packing, loading and unloading is the wisest decision.
Flexibility
One of the biggest reasons why you would love to hire moving labor is the flexibility it brings to your moving process. Moreover, you have the right to choose what type of services you need and what part of the moving process you can handle on your own.
You can always hire the help to move the large items while you pack the items on your own (provided you have the skills). The best moving labor service providers welcome and cater to all your requirements and offer a bespoke solution.
Safety and Peace of Mind
A great benefit of hiring moving labor is that you enjoy your peace of mind that your household is safe and also your moving process will be trouble-free. Because you have expert professionals handling your inventory, your worry for damage would be automatically reduced.
A DIY move can be tempting to try but it is wise to take the required help from the professionals. Engaging moving labor enables you to enjoy the relocation your way while keeping all the risks at bay.
Looking to move?  Don't be afraid to conctact us! At AZN Freight we can help you with your shipping needs for your business
Please call us at (786)218-7582  or send us a message m.me/AZNFrieght 
Original Article: IMC Grupo / Walter, Jenna / 2020